Fri, Nov 11 2016
It has been two days now since the election, and I'm still carrying a sinking feeling in my stomach. It reminds me of times in the past when something really bad has happened, like a car accident or falling off my bike, and I keep replaying in my mind how it could have just gone differently. Maybe if I think hard enough, if I just close my eyes and concentrate, I can undo what happened. This is the denial part of grief.
But in two days I've come to many realizations about what happened in this election, what it means for the progressive movement in the United States, and what it will mean for us as a country.
What Happened?
It's easy to laser focus in on one thing, but this was a confluence of many factors. I think the biggest is probably just a general feeling of disenfranchisement among working class white people. For them, this election was a chance to raise a big middle finger to the "elites". The politicians who have been promising things and never delivering, the media who has been going on and on about "political correctness" that brings them no benefits but only scorn, and the global trade regime that has gutted their communities of jobs.
They thought that Trump will undo all that. He won't, he in fact can't, but it doesn't matter. This election was symbolic for those folks.
To a lesser degree, but a very important one to acknowledge and address, this election was about bigotry. Trump ran explicitly as a white identity candidate. If you're white, he has your back. If you're not, watch out. He showed this time and time again in his attacks on Mexicans, Muslims, and blacks, and his tacit acceptance of the endorsements of KKK and alt-right racist splinter groups.
This election was also, once again, about religion. Religious leaders have convinced their supporters to vote on effectively a single issue - abortion. Evangelical Christians and (to a lesser degree) Mormons believed that the chance to reshape the Supreme Court overruled their abhorrance at the moral conduct of Donald Trump. It overruled the fact that Trump espouses such an un-christian view point that if he didn't promise to put justices on the court who would overturn Roe v. Wade, I believe he would have been cast as the personification of evil by these religious leaders. I don't believe these people are bigots - after all they proselytize their religion across racial and gender boundaries. They are not friendly to the LGBTQ community, but otherwise I can't believe they agreed with Trump on most of his unhinged rhetoric.
Finally, this election was about sexism and the double standard for women in our society. Hillary Clinton has a long record of public service, and a simultaneously long record of being attacked for her appearance, her comportment as a first lady both in Arkansas and in the White House, and for all manner of made up conspiracies. This election's bizarre focus on her emails (which she handled just like previous Secretary of State Colin Powell, as well as numerous members of Congress), was just the latest in a string of attempts to attack and discredit her. I truly believe that these attacks came as a result of her being a woman principally - she had the audacity to break into the boy's club of national politics in the 80s and 90s.
What Now For Progressivism?
I think there is a great future for progressive causes. As the saying goes, it's darkest before the dawn, and I do believe we're on the precipice of a structural change in beliefs on the acceptability of bigotry and sexism. Just take a look at this map: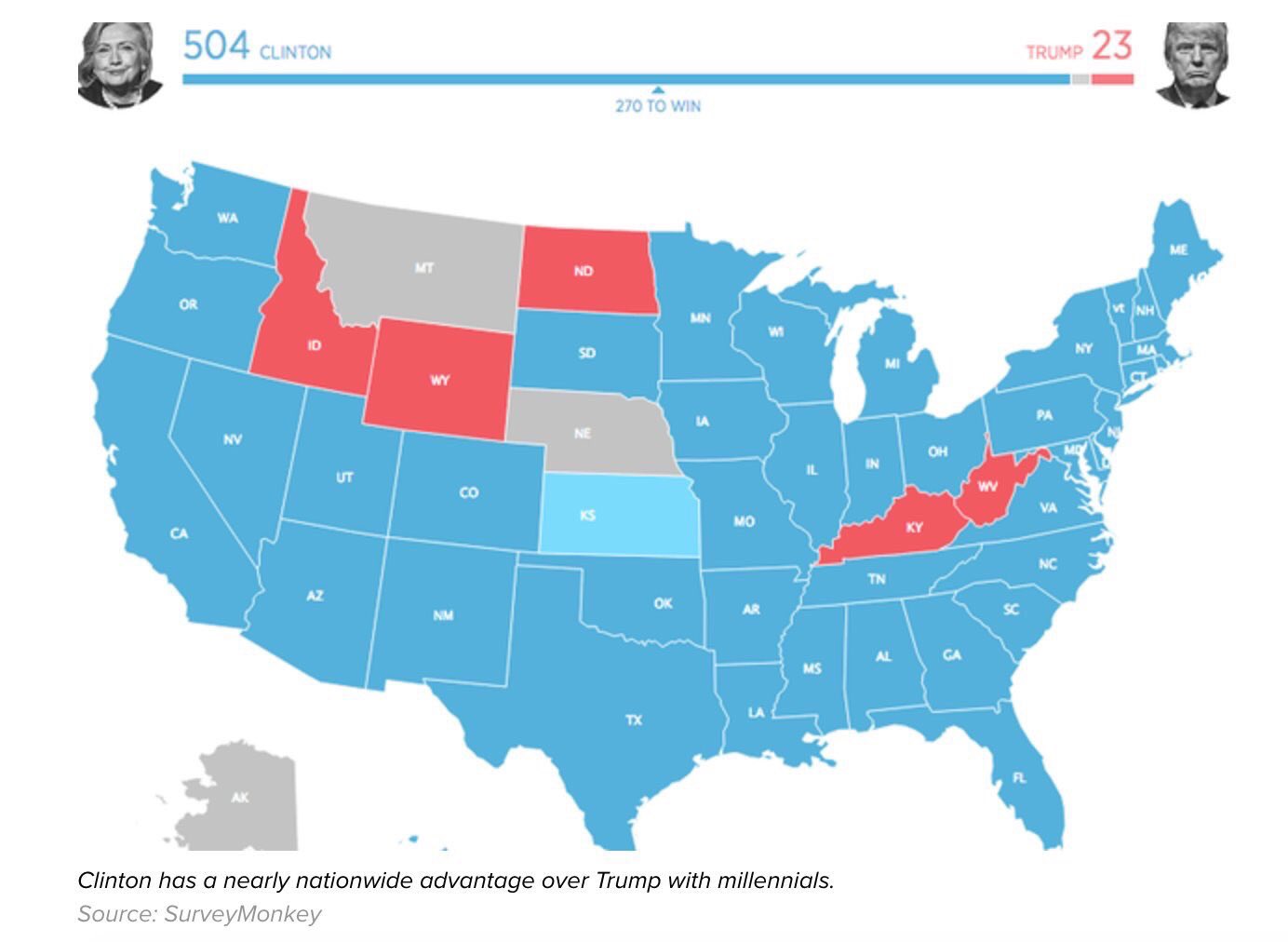 If only millenials had voted, that would've been the result. A landslide beyond anything we've ever seen before. Change is coming.
That doesn't mean the progressive movement can rest on its laurels. The next generation is being shaped right now by how we react to this setback. Take this elementary school mock election in NYC that had to be canceled because some of the children started chanting "Trump Trump Trump! We don't want Muslims here!"
If the next generation does not see us fighting for what's right, this setback could turn into a permanent reversal.
We need to push our elected leaders towards better positions through engagement. That means day to day voicing our support or opposition to congressional votes. That means organizing for and showing up to the mid-term elections in 2018. That means finding primary challengers for candidates in our own party to make it stronger. It means finding people to run for local office and convincing our friends and neighbors to vote for them. It may mean marching in the streets to show the world that we won't take rollbacks of our freedoms lying down.
Finally, the Democratic party needs to get its shit together and move forward from the Clinton dynasty. That's over. There are lots of great new leaders emerging in the Democratic party this election, we need to boost them up and out of the shadow of the Clintons and the Debbie Wasserman Shultz wing of the party. I have the deepest respect for Hillary and Bill Clinton, and in fact I believe Hillary probably single-handedly has done the most for the prospect of women in high government roles, simply by soaking up decades worth of vitriol and coming out swinging. But her and her husband's time is over, and it's time to move over and make room for the next generation.
Bernie Sanders is probably too old to run again, but he's not too old to keep pushing the party in the right direction. The Obama's have a role to play in this as well, but personally I hope they sit back for a year or two and allow new blood to take over. Personally I'd love to see a 2020 ticket involving newly made Senators Kamala Harris and Catherine Cortez Masto, and/or veteran Elizabeth Warren.
Most important though for the future of the movement are the 2018 elections, which will inevitably represent an opportunity to take back at least one part of the government (House or Senate), and actually most importantly, the 2020 local elections.
Why the local elections? Every 10 years, there is a US Census. That Census is used to redraw the congressional districts in 43 of the 50 states. Guess who gets to redraw those lines? You guessed it, state congresspeople. That means that vote for your state senator, representative, or congressperson actually means something. In the past, the Republican party put forth a concerted effort to gain control of state goverments in 2010 precisely for this purpose, and today the effect is that the US House of Representatives will be controlled by Republicans in spite of the fact that Democratic candidates will receive more votes, when aggregated across the country.
That's an unfair and shitty system, but when you're faced with a shitty game where the stakes are your values, you have to play. There are other alternatives, like referendums to make redistricting a more fair process, but in the meantime, we gotta do what we gotta do, and win those seats.
What Now For The Country?
Look, this is going to be a tough 4 years. There's just no denying that. Donald Trump's prospective cabinet is something out of a liberal's nightmares. We're going to see an erosion in our historical alliances with European countries and Canada and Mexico. We could even end up mired in another conflict somewhere in the world if Trump sees geopolitics as a game of poker that he thinks he can bluff his way to victory in.
There are two things I'd like to see happen, though.
First, I'd like to see us push back on what is going to be a solid Republican government every step of the way, if they attempt to roll back gay marriage, the right to choose, marijuana legalization, and healthcare reform. At the end of the day, this may end up in the form of disruptive protests because of the lack of representation for the majority in this country (yes, more Democratic ballots were cast than Republican, and they will control all parts of the government, nonetheless).
Second, on the flipside of this coin, I'd like to see us root for President Trump when he does something right. This is where I'd like to see progressives follow Michelle Obama's quote "When they go low, we go high". For the last eight years, Republicans rooted against President Obama, even when he was doing things they agreed with. We're better than that. Let's show by example how this democracy should work, and voice our support when something goes right. That's how you influence policy from the minority position, and that's how you keep a democracy healthy.
This Sucks
Yes. Yes it does. But despair, moving out of the country, seceding from the union, or disengaging from politics entirely are not the answer. Take your anger and direct it to what will make a difference. Protest. Vote. Campaign. Maybe even run for local office. Most importantly - always take the high road. Set an example for the next generation to be proud of.